While the fashion savvy might keep an eye on the catwalk, the place that many of us take our fashion guidance from is the world of celebrities. From Britney to Madonna, the celebrity fashion stakes cover every age range and fashion triumph (and disaster) that has graced our screens and magazine covers.
This season is no exception and here is a look at some of the hottest celebrity looks that have been spotted – and how you can copy them on the high street.
This is a style that has continued to reign supreme with the rich and famous, due to its ideal mix of glamour and casual wear. A maxi dress is the perfect item for any star size, from diminutive starlets like Jennifer Aniston through to the more voluptuous people on the red carpet, such as singing superstar Adele.
The peplum has been an immediate hit on the high streets but it all started with the celebrities who first championed the chic and retro trend. Some of its most recognisable wearers include the likes of former Harry Potter star Emma Watson and actress Emma Stone. My Week With Marilyn lead actress Michelle Williams has also sported a peplum inspired orange gown on the red carpet – making this one style trend which is sure to win favour on the high street.
Colour blocking
The in vogue colours may change with the new season but colour blocking is still hugely popular. Bright and bold colours have been championed by stars like songstress Katie Perry and Gossip Girl star Leighton Meester.
The bright, fun and pop-art inspired trend of pastels has been a real favourite with a number of celebrities, with many using the trend to strike daring and extreme colour combos. The blazer has been a particular favourite for candy coloured fabrics, with celebrities such as Jessica Alba and reality princess Kim Kardashian spotted in bright blazers in shades of turquoise green and hot pink.
Boring old blue denim has been a bit of a no-go zone this season and celebrities have led the trend in championing bright, bold fabric colours and funky prints and designs. Floral jean designs are a popular favourite, with cute feminine prints complementing the classic summer style of capri cut off pant leg. Blue and green designs have been spotted on the likes of Mischa Barton and Heidi Klum and, with intricate jewel or edgy disc-like chokers, these look perfect with delicate, sheer tops or dresses.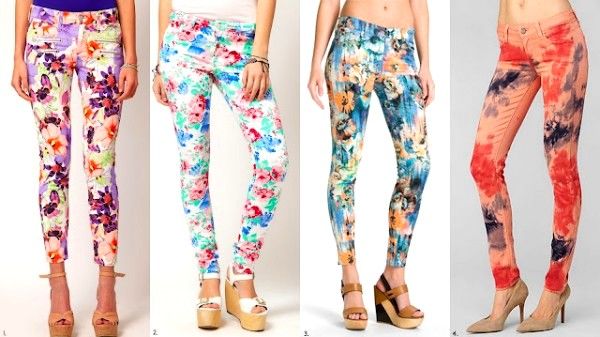 * This is a guest post written by the lovely Catherine Moraru of Very *